Percy Park Panthers: The Beginning
The growth of 'woman and girls' Rugby at Percy Park RFC has always been a slow burner. There has been many attempts over the years including one valiant effort from former member Steve Coombe. Alas it was never meant to be and Percy Park found their girls migrating to other sides as they entered 'junior' rugby, notably at Morpeth and Tynedale where they continued to enjoy their chosen sport. Amongst that number Sarah Foster and Orla McCallion had successful careers (and they are still playing) reaching the pinnacle of the Woman's game with Loughborough Lightening, Harrogate, Darlington Mowden Park and Leeds Rhinos.
In 2018 Anna Golighty found herself on the sidelines of Percy Park RFC watching her son Ben play within the Under 7 age group. Anna fell in love with the game and began searching around for a place to give rugby ago. Realising that Percy Park did not have a female rugby section, Anna took herself along to the very successful Novocastrians set up. As a novice she found the Novocastrian girls were streets ahead and considered that there had to be another way for woman like herself to learn and play the game.
Having shared her thoughts with her partner, and Percy Park member Bill Dryden, they set off on a path to create a Woman's section at their chosen club. Supported by Percy Park and the RFU, Anna became engaged within the Inner Warrior programme and with a number of ladies decided to give a session a try.
The first Inner Warrior event attracted 10 players. The event was a success. The players stayed and the Percy Park Panthers were born. They trained every Monday night come 'rain or shine'.
Despite their best efforts they couldn't increase their number as players came and went. A 10 a side friendly against Darlington woman on 'half a pitch' was the Panthers first foray into competition. The contest flowed from pitch to bar and with renewed endeavour Anna actively recruited and pursued rugby mums and rugby wives on a Sunday morning and any rugby fit looking woman she bumped into whether shopping or on a night out. Her efforts were rewarded as numbers began to increase.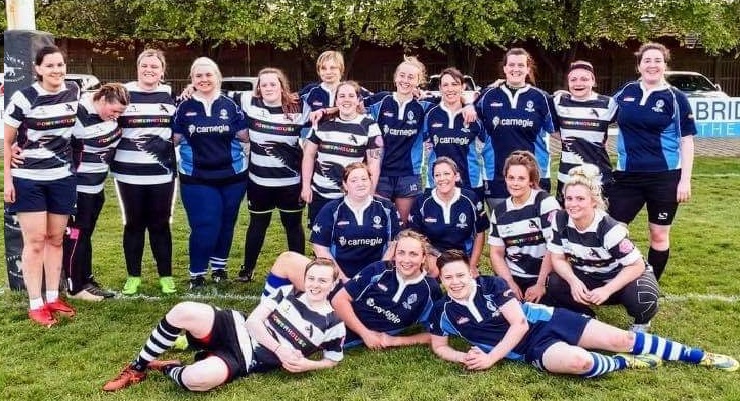 The real breakthrough was an Inner Warrior event in October 2019. An occasion heavily advertised on social media platforms. Eighteen woman turned up to play and attempt to learn the game of rugby. As numbers increased so did the COVID virus and life went on hold.
As lockdown eased Anna and Bill were joined two enthusiastic coaches and Percy Park Rugby Development officer Adam Hay. The girls kept together and their efforts were rewarded when Andy Wilkinson was recruited from Novocastrians Woman's second string to become 'The Panthers' lead coach. Numbers, enthusiasm and confidence continued to rise. As the enjoyment ramped up so did the desire to match newly acquired skills within a competitive arena.
Harnessing the bubbling enthusiasm Andy Wilkinson and Percy Park RFC entered their fledging team into the National league 3 programme for 2021 /2022 season. Two successful warm up games, home and away, against Blaydon RFC ensured that the team were ready to venture into the theatre of League fixtures. The Panthers face their first opponents Stockton at Percy Park on Sunday 10 October.
If you are interested in joining the Percy Park Panthers and are aged 17 years or above please contact Anna or Bill at This email address is being protected from spambots. You need JavaScript enabled to view it..Percy Park Panthers are a newly formed ladies development team and welcome any age, fitness and ability. All you need is a willingness to give it a go!
Training sessions are at Percy Park RFC on Preston Avenue, North Shields every Monday and Wednesday from 7-8.30 pm and please feel free to bring along any children along aged 5+ to watch.